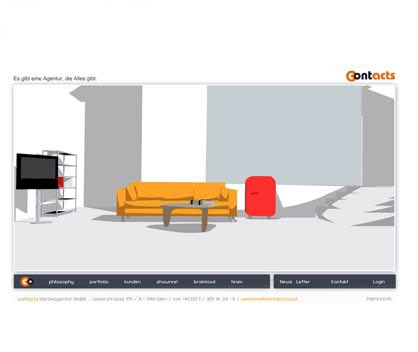 contacts Werbeagentur GmbH

Dinsfüsslweg 3
A - 1160 Wien

Fon +43 (0) 1 / 929 14 24 - 0
Mail: welcome@contacts.co.at
www.contacts.co.at

Auf Ihrem System wurde kein Macromedia
Flashplayer erkannt.

Um unseren Internetauftritt betrachten zu können,
können Sie sich hier den Macromedia Flashplayer
kostenlos downloaden.
contacts ist eine Full Service Agentur und betreut nationale und internationale Kunden. Unsere Kernkompetenzen liegen im below-the-line Bereich, in der Verkaufsförderung, Guerilla Marketing, Promotion, Event, Handelsmarketing, Roadshow und in der integrierten Kommunikation. contacts Werbeagentur, below the line, above the line, klassische kampagne, werbeagentur, werbung, marketing, marketingagentur, full-service, integrierte kommunikation, gesamtkommunikation, promotion, sales promotion, handelspromotion, aktionistische promotion, verkostungen, verkostungspromotion, sampling, samplingpromotions, event, emotionalisierung, emotion, reminder, corporate event, veranstaltungen, incentive, motivation, consumer event, roadshow, kommunikationsagentur, kommunikation, handelsmarketing, on pack, consulting, packaging, e-marketing, electronic tools, sms-promotion, mms-promotion, internet games, online-kampagne, websites, homepage, web-basierende datenbanken, e-gimmicks, market research, marktforschung, store checks, mystery shopping, mystery calls, mitbewerberanalyse und -beobachtung, kundenlaufstudie, umfragen, testmärkte, lobby-checks, gewinnspiel, kooperation, cooperation, point of sale, point of purchase, pos, pop, kaufimpulse, kaufentscheidung, impulskäufe, merchandiser, merchandising, dekorieren, dekorateur, dekodienst, pos-betreuung, messe, messeservice, messeauftritt, design, messestandbau, präsentationen, präsentationstechnik, messepersonal, messekonzept, hostessen, promotion- und verkaufsstände, packaging, labeling, einladungen, salesfolder, directmarketing, directmailing, crm, customer relationship management, b2b, b2c, producing, public relation, pr, öffentlichkeitsarbeit, pressearbeit, guerilla marketing, ambient media, virales marketing, buzz marketing, mundproganda, Samsung, Unilever, Kodak, BMLV Bundesministerium für Landesverteidigung, Falk Marco Polo Interactive GmbH, Land Rover, One, ATV, Belkin, Bawag, PSK, Energizer, Ergee, Kurier, Xerox, Rama, Bundesheer, Knorr, Brunch, Eurocolor, Knorr Vie, Knorr Vitamin Plus, Kuner, Becel.